About the conference
We're thrilled to announce the first international 'No Frills' conference.
In 2018, the 27th National Vocational Education and Training Research Conference 'No Frills' will be co-hosted with New Zealand partners, the Industry Training Federation and Ako Aotearoa.
Save the date and join us in Sydney on Wednesday 15 to Friday 17 August 2018.
'No Frills' is a well-known annual national conference where researchers and practitioners in the vocational education and training (VET) sector come together to present, discuss and share information about key issues confronting the sector. By partnering with New Zealand, this year's conference will provide an excellent opportunity to highlight international evidence for benchmarking policy best practice.
The conference also provides valuable professional development opportunities to enhance research capacity and capability in the VET sector by incorporating activities on data and research analytics, and research practice.
The 2018 conference program will focus on Skills for a global future: working and learning together.
Who should attend
Educators
Researchers
Policy-makers
Registered training organisations
Schools and universities
Research organisations
Commonwealth, state and territory education and training authorities
Industry bodies
Employer groups
Not-for-profit and community associations
Private consultants
Call for presentations and papers
We now invite abstracts for presentations and poster sessions for the 2018 conference, a trans-Tasman event combining the 27th National VET Research Conference 'No Frills' with the 2018 NZ VET Research Forum.
Theme
The theme for the 2018 conference is Skills for a global future: working and learning together.
Skills for a global future reflects the international nature of this conference and the pivotal role VET plays in preparing people for an increasingly globalised, interconnected and rapidly changing workforce.
Working and learning together reflects that this conference is a collaboration between NCVER, the Industry Training Federation and Ako Aotearoa, including our desire to share knowledge, ideas, insights and solutions with each other, and the need for all stakeholders to cooperate to ensure the success of VET in both countries.
Presentations
We are seeking presentations that explore this theme and further our understanding of the issues it raises.
We seek informative, relevant and thought-provoking presentations that:
showcase quality research with a sound evidence base
focus on findings and recommendations that can be applied to the wider VET sector
engage the audience.
Presentations can highlight research that is either in-progress or complete. We strongly encourage both early career and established researchers (including those who are new to VET), as well as employers, industry, providers, and practitioners to present.
Presentations that are thematically linked will be scheduled in streams to promote ongoing discussion among presenters and attendees around those topics.
Refereed papers
To mark the first 'international' 'No Frills' conference, in addition to standard presentations, we are also offering the opportunity to have your paper refereed as part of the program. Following submission of your abstract, successful applicants will be required to submit a paper for peer-review by two independent referees.
This may result in your paper being published.
Why present?
contribute to the future of vocational education and training across global borders
promote your research at a major international conference to researchers, providers, industry and government representatives
network with other international VET professionals
access professional development opportunities via the pre-conference workshops.
NCVER's annual 'No Frills' conference is considered one of the best value events on the VET calendar. By partnering with our New Zealand colleagues we are going international, which may open up further opportunities for you when it comes to presenting your work.
Key dates
Close of abstract submissions
16 March 2018
Notification of abstracts accepted
6 April 2018
Submission of refereed papers for peer review
4 May 2018
Last date for submission of *PowerPoint presentations
6 August 2018
*If you have a more creative idea about how to share or present your research, we'd love to hear about it.
How to submit an abstract
To have your work considered for presentation, you must submit an abstract online by the date listed above.
Visit the Abstract Warehouse website to begin the online submission process.
Registration
Registration will open in early April to coincide with the release of the conference program. A range of packages will be available up to the value of $500.
Scholarships
NCVER is offering a range of scholarships to Australian presenters to assist with the costs of attending the conference.
Scholarships are valued at $1,200 and cover full conference registration (including pre-conference workshops, welcome reception and conference dinner) as well as $700 to support travel, accommodation and other related sundries.
Scholarships are available in three categories:
| | |
| --- | --- |
| Scholarship type | Criteria |
| Early career researcher - academic | Available to any person who has a research degree (or degree with a strong research component) within the last six years and who is currently working in a research-related role |
| Researcher | Available to anyone working in a VET-related research role |
| Practitioner | Available to those involved in the delivery of vocational education and training, preferably directly |
How to apply for a scholarship
Submit an abstract via the online abstract submission process and tick the box indicating your intention to apply for a scholarship.
Complete and submit the online scholarship application form by COB Friday 16 March 2018.
Terms and conditions
Successful applicants must:
provide original receipts or invoice for expenditure incurred for travel to and from the conference and accommodation in Sydney to a maximum of $700 for reimbursement
attend the conference from 15-17 August 2018
consent to their personal information such as name, title, abstract and photo being made available for promotional use by NCVER.
New Zealand presenters
Those travelling from New Zealand to attend the conference can apply for financial support from the Industry Training Federation/Ako Aotearoa. Preference will be given to those who have research abstracts accepted. Further information will be announced in January 2018.
Sponsorship
We're pleased to offer a range of sponsorship packages. We encourage you to get in quick as these opportunities will not last long.
Please click the image below to download your copy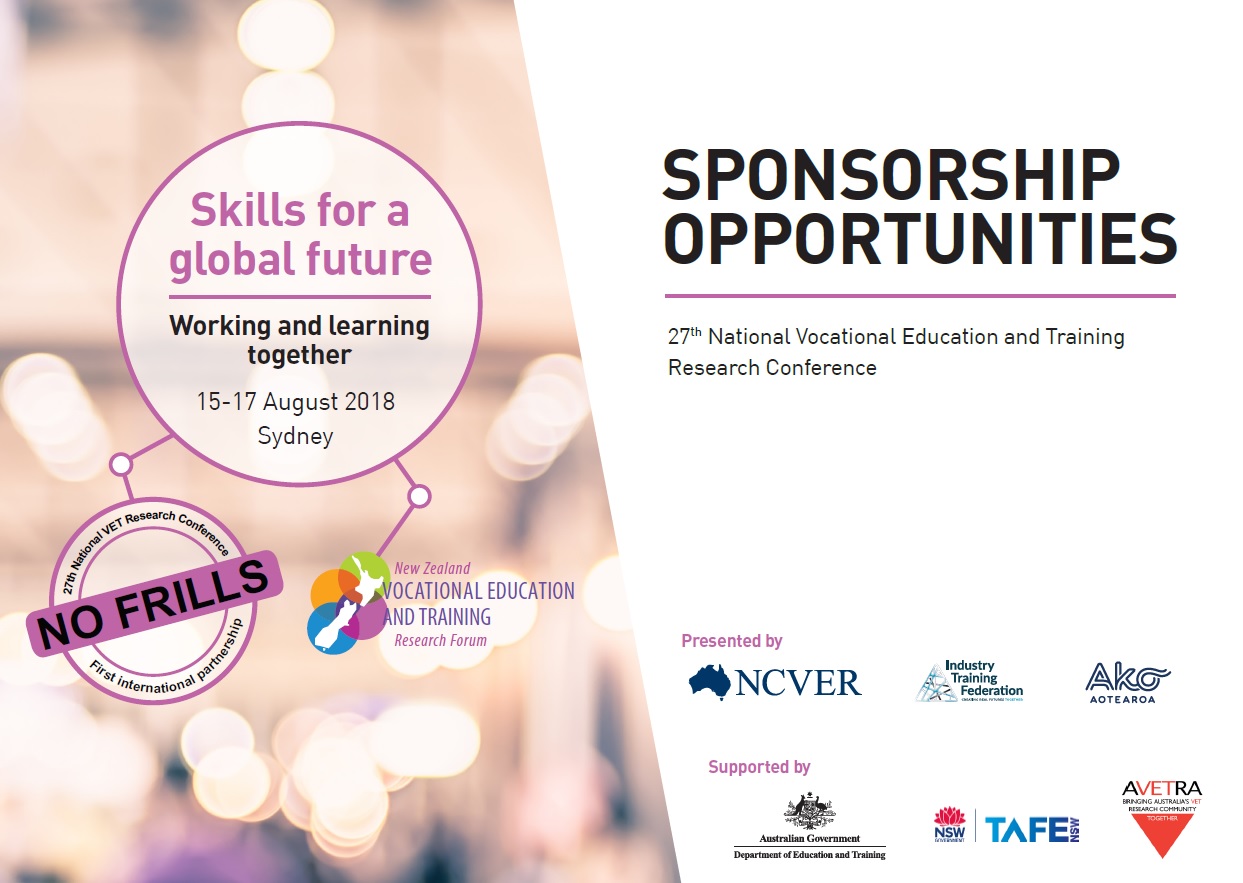 Venue
Co-hosted with New Zealand's Industry Training Federation and Ako Aotearoa, the conference will be held in Sydney at the Aerial UTS Function Centre, located on Level 7 of Building 10 , University of Technology Sydney, 235 Jones Street, Ultimo.
Accommodation
There are a number of accommodation options available for a range of budgets close or nearby to the venue.
Accor Hotels offer 10% off the best available rate for delegates conferencing at the UTS Aerial Function Centre at selected hotels nearby.
The Mercure Sydney and Novotel Sydney Central are also just across the road, and Ibis Sydney World Square is just a short walk away so you are sure to find accommodation that suits your budget.
Sydney attractions
A leading destination in innovation, tourism and international business – Sydney is Australia's oldest and most cosmopolitan city with an enviable reputation as one of the world's most beautiful and livable metropolitan cities.
Sydney is the destination of choice for international corporations, business leaders, tourists and students. It has become a thriving hub for almost 40% of the top 500 Australian corporations in education, finance, digital and creative, all set against the stunning backdrop of ocean coastline and the famous, iridescent harbor.
There is also a fantastic range of world class tourist attractions within a short distance of the conference location, including the famous Sydney Opera House, the Sydney Harbour Bridge and Taronga Zoo to Bondi Beach (only a short train ride away) and the beautiful Blue Mountains.
Why not extend your stay and book tours of this outstanding city through Destination NSW.
General information
Conference contact (including abstract queries)
Georgia Basford-Foxx
National Centre for Vocational Education Research
Level 5, 60 Light Square, Adelaide SA 5000
georgiabasford-foxx@ncver.edu.au
08 8230 8451