About the conference
The 28th National Vocational Education and Training Research Conference 'No Frills' is being co-hosted with TAFE SA in Adelaide on 10-12 July 2019.
'No Frills' is a well-known annual national conference where researchers, practitioners, providers, government and industry representatives come together and share knowledge, ideas, insights and solutions surrounding Australia's VET sector.
The conference also provides valuable professional development opportunities through a program of hands-on, interactive pre-conference workshops incorporating activities on data and research analytics, and research practice.
Theme
The 2019 conference program will focus on The student journey: skilling for life.
As explored at past 'No Frills' conferences, the world of work is changing, driven by rapid technological evolution in an increasingly global society. It's almost certain that the skills we develop today won't be enough to operate or compete effectively in the workplaces of tomorrow.
Will it be enough for our future workers to earn a single qualification or learn only a few different skills? Where do employability skills fit into the mix?
While every student's journey is different, more and more research and discussion points to how workers must become lifelong learners to enable them to grow and evolve with their jobs. VET plays a critical role in making this happen.
Who should attend
Educators
Researchers
Policymakers
Registered training organisations
Schools and universities
Research organisations
Commonwealth, state and territory education and training authorities
Industry bodies
Employer groups
Not-for-profit and community associations
Private consultants
Keynote speakers
We are thrilled to announce Dr Fiona Kerr as one of our keynote speakers.
Program
Again this year we received an overwhelming number of high-calibre abstract submissions. We would like to thank all candidates for their time and effort in preparing their abstracts.
Registration
A range of registration options are available up to the value of $500.
Scholarships
Thank you to those who have applied for a scholarship. Successful applicants will be notified of the outcome by the end of March 2019.
Scholarships are valued at $1,200 and cover full conference registration (including pre-conference workshops, welcome reception, and conference dinner) as well as $700 to support travel, accommodation, and other related sundries.
Sponsorship
We're pleased to offer a range of sponsorship packages. We encourage you to get in quick as these opportunities will not last long.
Please click on the the image below to download the Sponsorship & Exhibition Opportunities booklet and take a look at what's on offer!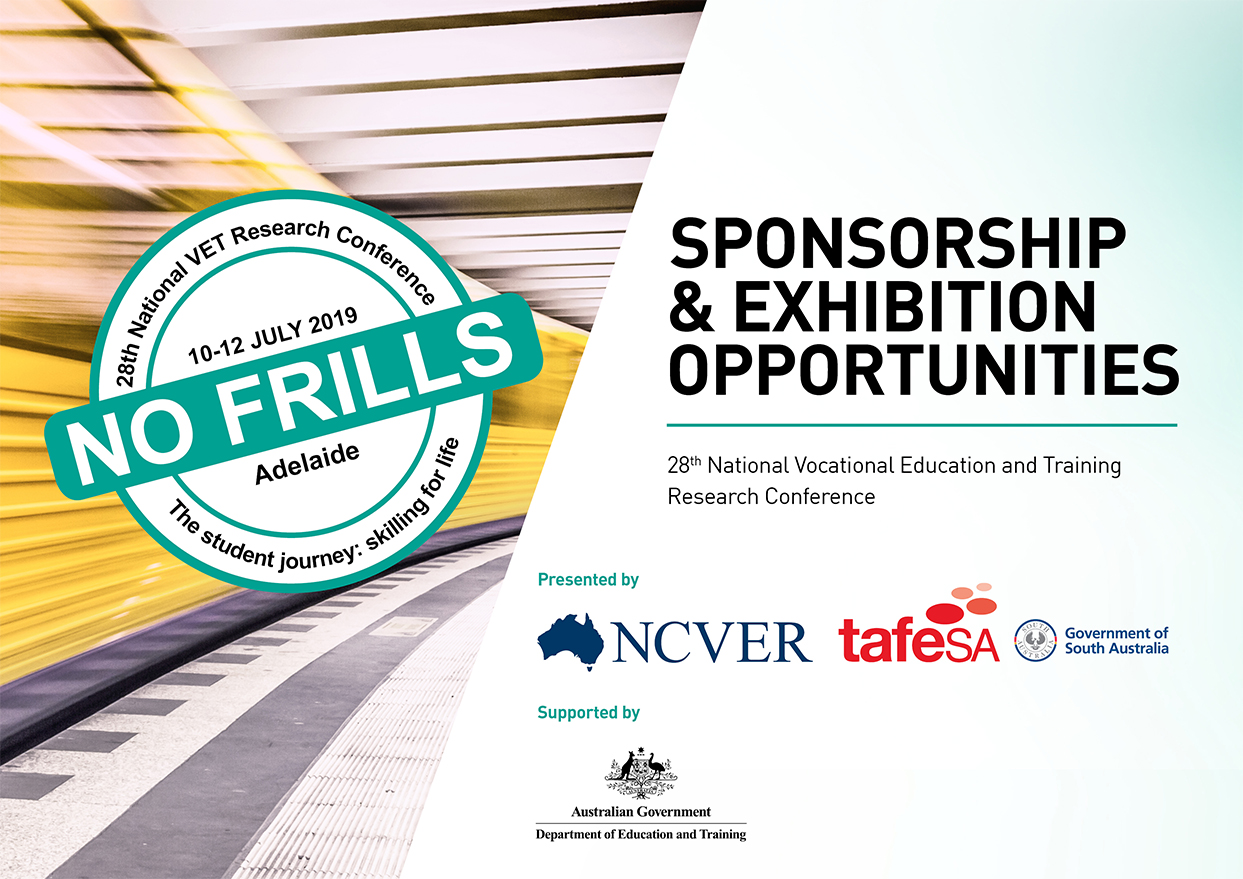 Venue
Co-hosted with TAFE SA, the conference will be held at the TAFE SA Adelaide campus, located at 120 Currie Street, Adelaide in the CBD. The plenary sessions only will be held at the University of South Australia, City West campus.
Accommodation
There are a number of accommodation options available for a range of budgets close or nearby to the venue.
The Adelaide Rockford is the closest to the TAFE SA Adelaide campus, and the Oaks Embassy serviced apartments, Peppers on Waymouth and Stamford Plaza are also a short walk to the venue.
Adelaide attractions
Adelaide is home to historic buildings, lush parklands and sprawling botanic gardens. It is also the gateway to some of Australia's most renowned wine regions - The Barossa, Clare Valley, McLaren Vale and Adelaide Hills which offer some of the most exclusive, unique and boutique drinking and dining experiences in the world. In the CBD, consider an Adelaide Central Market Discovery Tour or Adelaide Oval Roof Climb Experience. Greater Adelaide also has an inspiring range of attractions to keep you busy over the weekend!
Adelaide has one of the fastest airport to city transfers anywhere in the world (just 10 minutes) with regular direct international and domestic flights.
Adelaide also ranks as the most affordable capital in Australia as well as being undoubtedly the most walk-able, making it possible for delegates staying in the city to walk to and from the conference venue with ease.
General information
Conference contact
Stephen Tormet
National Centre for Vocational Education Research
Level 5, 60 Light Square, Adelaide SA 5000
events@ncver.edu.au
08 8230 8451
Sponsors
A huge thank you to our sponsors for their valued support.