About the National Student Outcomes Survey
The National Student Outcomes Survey collects information on VET students' reasons for training, their employment outcomes, satisfaction with training, and further study outcomes. For subject completers (students who successfully complete part of a course and then leave the VET system), the main reason for not continuing with the training is also collected.
Students included in the survey are those who completed their training in the previous calendar year.
Since 1999, the survey has collected information on the outcomes of government-funded VET students. In 2016, the scope of the survey was expanded to report on the outcomes of all graduates - including fee-for-service students (those who paid for the training or whose employer paid for the training) from private training and community education providers. The expanded scope was applied to the 2017 survey for graduates and, for the first time, subject completers.
For survey timings and more information see our VET statistics explained page.
Snapshots
Click on the images below to see the full version of each infographic.
Results
Results of the Student Outcomes Survey are published late November/early December each year, once fieldwork is completed in August.
Please select the appropriate tool depending on whether you are a general or regular user.
General users
Have a basic understanding of data.
Supporting documentation, including the questionnaire and technical notes, is available from the Publication page.
Regular users
Can understand tables and manipulate data.
Note: Data visualisations may request a login. Please click the Cancel button to continue to the visualisation.
Expert users
Have a sophisticated understanding of data and its uses, including items and concepts.
Note: Access to this detailed data requires registration.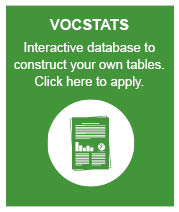 Data services
If you can't find what you need from the above tools, we may be able to provide you with customised data to meet your requirements. This service will be charged on a cost recovery basis.
For more information, see Data access and charges: data and library information.
More information
Superseded publications
Superseded publications from this collection may be accessed through the VOCEDplus database.