The 26th National Vocational Education and Training Research Conference 'No Frills' will be co-hosted with TasTAFE and held in beautiful Hobart from 5 to 7 July 2017.
'No Frills' is a well-known annual national conference where researchers and practitioners in the vocational education and training (VET) sector come together to present, discuss and share information about key issues confronting the sector. It also offers valuable professional development opportunities through a series of hands-on pre-conference workshops.
Each year we partner with a training provider so we can offer great value for money. Using their quality training facilities to stage the conference means we can keep registration costs down and provide a relaxed and casual conference atmosphere – perfect for networking.
This year's conference explores the theme Skilling for tomorrow, highlighting work across three streams:
Explore: gaining a better understanding of education, training and employment, the people involved and interactions between these systems
Translate: applying knowledge about education and training to improve practice, quality and outcomes
Evolve: addressing the opportunities and challenges ahead to transform the sector to better meet future skill needs.
The recently released discussion paper Skilling for tomorrow by NCVER provides a summary of research and discussion on the future world of work, drawing out points relevant to the theme of the 26th National VET Research Conference 'No Frills' - Skilling for tomorrow. It explores the drivers changing the world of work, the skills we're predicted to need in the future and what this means for training. The paper aims to encourage conversations and discussions on the question of your role in skilling for tomorrow.
Major support for the 'No Frills' conference is provided under the National VET Research Program by the Australian Government and state and territory governments, through the Department of Education and Training.
Program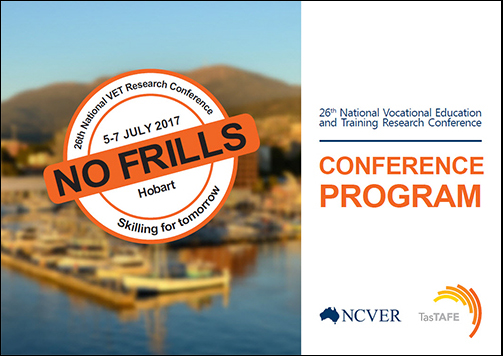 Keynotes
The Hon Matthew Groom MP, Minister for State Growth
Matthew Groom is the Minister for State Growth, Minister for Energy and Minister for Environment and Parks in the Tasmanian Government. The State Growth portfolio includes responsibility for the vocational education and training and workforce development system in Tasmania.

Matthew was first elected to the Tasmanian Parliament as the Liberal Member for Denison in March 2010. Prior to being elected to Parliament, Matthew achieved considerable success professionally with over 15 years of national and international experience in the private sector.

Adrienne Dawson, Principal Advocacy Advisor, Industry Training Federation, New Zealand
As Principal Advocacy Advisor at the ITF, Adrienne's role is to advocate for the interests of the industry training sector and the ITOs by providing advice on policy and sector performance issues. She has an Honours degree in English Literature and a Tohu Maoritanga from Victoria University Wellington. Adrienne started her career as an analyst for NZQA before moving into qualification development and managerial roles within a number of ITOs. She lives in Nelson with her husband Garth and her two children George and Grace.

Joining the Dots...REAL Pathways to Participation




John Hooper, Executive Officer, Neighbourhood Houses Tasmania
John is the Executive Officer for Neighbourhood Houses Tasmania, the peak body in Tasmania which supports its 35 Member Neighbourhood Houses. John has lived in Tasmania for 14 years and has spent the last 23 years working in community organisations focusing on community development after graduating with a Bachelor of Social Work from the University of Queensland. John has seen first-hand how genuine place-based community development can transform individuals lives, their families and communities.

Building work readiness in job-seekers – An employer perspective




Stacey Joseph, Member and Education Specialist, Tasmanian Chamber of Commerce and Industry

Stacey has in excess of 20 years' experience in the service industry across a broad range of front line, supervisory and management roles. For the past 10 years, Stacey has been an industry trainer, assessor and facilitator. Having a broad experience in project management, workforce development and the design and delivery of a range of leadership and management programs both accredited and non-accredited.

Dinner speaker

How to get the world's best job - How re-training can open up a world of possibilities




Matthew Evans, Food Writer and TV Host
Matthew Evans once trained as a chef and worked as a high profile restaurant critic, then threw it all away to become a smallholder in Tasmania's peaceful and picturesque Huon Valley. He lives and works on Fat Pig Farm. Matthew is the author of 11 books on food and the presenter of the popular Gourmet Farmer on SBS. He is also the presenter of What's the Catch, an eye-opening documentary into the truth behind Australia's seafood. Along with the show, he became a consumer advocate, launching a campaign to change seafood labelling laws so we can all know what we eat. For the Love of Meat – a three-part documentary series for SBS, continues this advocacy, focusing on Australia's meat industry.
Who should attend?
| | |
| --- | --- |
| Educators | Researchers |
| Policy-makers | Registered training organisations |
| Industry | Schools and universities |
| Employer groups | Commonwealth, state & territory education and training authorities |
| Not-for-profit and community associations | Private consultants |
Register now
This year we are offering a range of registration options. Register here
| | |
| --- | --- |
| Conference Package A (includes the Welcome Reception) | $280 |
| Conference Package B (includes the Welcome Reception and Conference Dinner) CONFERENCE DINNER BOOKED OUT | $360 |
| Conference Package C (includes the Welcome Reception and Pre-conference PD Workshops) WORKSHOPS FULLY BOOKED | $380 |
| Conference Package D (includes the Welcome Reception, Conference Dinner, and Pre-conference PD Workshops) WORKSHOPS FULLY BOOKED | $400 |
Sponsorship
Our sponsorship packages have been designed to provide your organisation with maximum exposure to conference delegates. Being a sponsor will provide your organisation with the opportunity to:

showcase products and services at a national level at one of the most popular conferences on the VET calendar
interact with a diverse range of stakeholders from across government, education and training, industry, community and private sectors
align with NCVER, Australia's leading provider of high-quality, independent research and statistics on vocational education and training.

To view the range of packages available No Frills 2017 Sponsorship Opportunities. If you wish to discuss sponsorship, please contact June Ingham.
Sponsors
| | |
| --- | --- |
| Conference Dinner | Welcome Reception |
| | |
| Keynote Speaker | Table Display |
| | |
| Satchel Bag | Tea Break |
| | |
| Scholarships | |
| | |
| | |
Scholarships
We have introduced a range of scholarships at this year's 26th National Vocational Education and Training (VET) Research Conference 'No Frills'. This initiative, which is part of NCVER's commitment to build capacity and capability in VET research, is designed to facilitate attendance and widen participation from across the VET sector.
'No Frills' 2017 scholarships have been awarded to the following presenters:
VET Development Centre Practitioner Scholarship: Mr Warren Guest, Holmesglen Institute
TAFE Directors Australia Practitioner Scholarship: Dr Md Aftabuzzaman, Melbourne Polytechnic
NCVER Early Career Researcher Scholarship: Dr Megan Moskos, NILS, Flinders University
Skills Tasmania Early Career Researcher Scholarship: Ms Lisa Denny, University of Tasmania
Department of Education and Training Practitioner Scholarship: Ms Alison Haines and Ms Fiona Plunkett, Charles Darwin University (joint award)
Location & travel
Where is the conference being held?
TasTAFE - Drysdale Campus
59 Collins Street
Hobart, Tasmania
How do I get to Hobart?
Direct flights to Tasmania operate on a regular basis from Melbourne, Sydney, Brisbane and Perth. Flights are available through Qantas, Virgin Australia, Jetstar or Tiger Airways. Our venue is approximately 17 minutes drive from Hobart Airport.

Where can I stay?
The Drysdale campus is located in the Hobart CBD in close proximity to numerous hotels. The following hotels are located within a 10 minute walk of our venue:
Parking
Due to the proximity of the conference venue (Hobart CBD), no parking is available at the campus for delegates. Paid council parking is available by meter and there are nearby council car parks. Further information can be found on the City of Hobart website.
A taste of Hobart
If you're thinking of staying for the weekend or bringing the family, here is a small taste of what Hobart has to offer: